The Tricks of Bad Casinos: A Brief Guide to Common Malpractices and Tips for Avoiding Them
There are plenty of resources about what makes a good online casino and how to recognise one, and here we'd like to shed some light on how to spot the bad ones and what tricks they use to entice you into depositing and playing their games. You're aware that searching for the right casino can be a lengthy process and that you should read various reviews and players' opinions. Well, it's the same for bad casinos. They're usually flagged by casino portals as "blacklisted" or "rogue" casinos. Rogue are somewhat different from blacklisted, but in essence both should be avoided.
Unreliable Casinos Don't Have Valid Casino Licences
The first thing to check with an online casino is whether it is licensed and if that licence is displayed on the website. The licensing body can be seen in the footer of the website along with logos of other authorities and organisations. Licensed online casinos usually specify the licence number so that anyone can check if it is really valid. A casino that refuses to disclose this kind of information may very well be unlicensed.
So, why is it that some online casinos don't have an official casino licence? Well, first of all, because that way they can avoid being monitored and can conduct their business in a criminal, or at least, not very honest, manner. Licensing jurisdictions usually take actions against online casinos that are under them and act inappropriately. Unlicensed casinos can avoid all kinds of repercussions. They also save on the taxes and fees, which makes them even less honest as businesses. To see a transparent and reputable operator you can trust, read our review on William Hill here.
However, there are licensing jurisdictions that have never taken any action against online casinos licensed by them. This is the case with Costa Rica and a couple of other jurisdictions. Usually the most trusted licensing jurisdictions are Antigua & Barbuda, Kahnawake, Gibraltar, Curacao, Malta, the Isle of Man, Alderney and a couple of others. For British players, however, the UK Gambling Commission is the only authority that matters. Getting a casino licence is a complex process which involves meeting certain standards and satisfying strict requirements. Without a valid licence casinos don't have to answer to regulations, which in the end can mean that they can do whatever they like.
Bad Online Casinos Don't Have a Large Player Pool

A successful and honest online casino usually has a strong and satisfied player pool, which means a lot of customers come to play its casino games. A satisfied player pool means steady revenues and profit for the casino. That way the casino can afford to offer some good bonuses and feature high-quality service in the form of strict security measures for the transactions, professional customer support, experienced computer technicians and everything that can make up a good business.
Bad casinos, on the other hand, are not interested in anything like that. They are there just to scam players, make the casino officials instantly rich, take the players' money away and be done with them. This is the main reason why bad casinos have small numbers of players. We are talking of usually very unsatisfied players that flee the casino in the first couple of days after signing up with it. In contrast and to give you a good example of an especially popular online operator, we should mention 888 Casino which is a favourite stop to plenty of players and bettors on the Internet.
Some Criminal Suppliers Manipulate the Outcome of the Games

Another common practice that bad casinos employ is manipulating the outcomes of their games. This is very easy to do if you employ some hackers. They'll rig the games to give payouts at the beginning, so you'll wager more and then all of a sudden the balloon will explode and you will be left with a big hole in your pocket.
That's why you should see if the games and the RNG are certified by independent auditing agencies. Such certifications are displayed on the casino's website along with the payout rates. Look for eCOGRA, TST (GLI), Symantec, iTech, CFG and other agencies' logos. By seeing one of these you'll know that the casino has been verified by the agency.
Suspicious Operators Show No Information about the Payout Rates
Payout rates also give away very important information. They are displayed as a percentage which indicates how much of the money wagered on the casino games overall, or on a specific category or an individual title, returns to the players as winnings, on average. These rates are audited and verified by independent auditors and can be included in the certificates for the games. You can see an example of that on the website of Ladbrokes, where the certificate issued by GLI Europe is easy to check. By disclosing the information on the payout rates, the casino shows that it is fully honest and transparent with its customers. Moreover casino players can hold these payout rates as a guarantee about the fairness of the games. However, there are even reputable, licensed and certified online casinos that don't disclose their payout rates. That doesn't mean that they are unfair or dishonest. As long as they hold a certificate for their games, and it can be checked, they are good.
Unrealistic Bonus Offers and High Wagering Requirements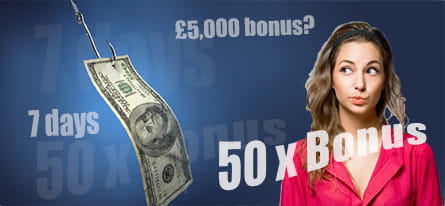 Bad casinos use unrealistic bonus offers to entice you into signing up and making a deposit. Once you have made the deposit your money will be trapped there because you'll have to satisfy a very high wagering requirement. Bonus turnover requirements are enforced by online operators as a measure to prevent you from signing up and depositing just to take the bonus and withdraw it without spending a cent on a game. That type of offensive behaviour is known as "bonus abuse" in the online gaming community. So, you are required to wager the bonus and sometimes your deposit several times before being able to cash out any amount, which is only fair. Well, in the case of bad casinos, these requirements are there to make it impossible for you to withdraw either your winnings or your own deposit, because if you don't meet the requirement, your money is simply stuck with the website or you will spend it fast trying to meet the terms. The bonus amounts are usually incredibly high, but they don't necessarily have to be that, because a high wagering requirement is sufficient to do the trick. My advice? Always read the terms before depositing.
Poor Customer Support: Few Channels, Unhelpful Operators and Short Opening Hours
Bad customer support is the epitome of a bad casino. It is a classic definition by which a dishonest and low-quality operator can be easily detected. A professional online provider will do everything to set up customer support with hosts who are polite, experienced and who will offer answers to all your questions in a timely manner. It will even go as far as featuring multiple language support, and not just help in English. One of the great operators in this respect is Eurogrand, whose review can be read here. The website offers FAQ, Live Help in 9 languages and free phone line, all available 24/7.
Bad casinos don't even bother to set up a help section, let alone do it in a professional and multilingual manner. Instead of doing everything to respond to your email queries within reasonable time, an unreliable website will just ignore every request for a response you make, which is why you won't find the live chat contact method and working hours for the other channels will be very short (if they are mentioned at all). Live chat and 24/7 help available means instant messaging and instant response, and that isn't important for them.
Conclusion: Make a Short List and Stick to It
If you want to have nice and pleasurable experience playing online, simply take a mental (at least) note of the above criteria and stick to them. Think hard before choosing the right casino provider and consider if it is really the right one. Look for its licence and check if it's real and valid. Look for information that will indicate if it has a strong and solid player base by browsing the internet for players' opinions and experiences with that casino. Find out if the games are checked and certified by testing authorities. If the payout rates are displayed by the casino, then it is even better. If the bonus and the wagering requirements seem suspicious to you, steer away from the casino. Finally, search for opinions by other players about how good the support service is. It will indicate how devoted the casino is to serving their customers.